The essential
The action Edit allows to edit the documentary notes of documents and stories. The Edit form is aimed to write, complete or modify the documentary description fields of records.
It is possible to edit these descriptions either one by one or by batch from records.
Use the input help tabs
Up to four input help tabs are displayed on the right side of the interface.
Thesaurus
The Thesaurus tab display thesaurus if used.
Clipboard
This tab allows to copy and paste terms, expressions or sentences to use while capturing notes.
Find/Replace
This tab allows to search and replace terms or expressions contained in the records' notes being edited.
Click on the Find/Replace tab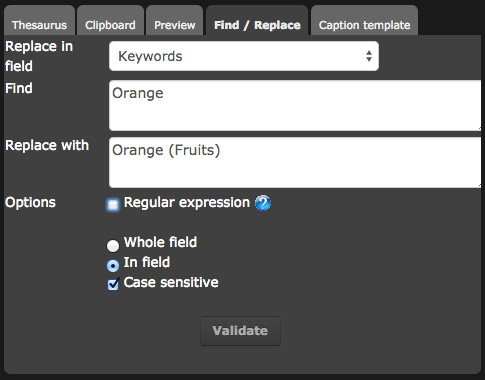 Limit, if necessary, the function to a particular field using the menu list or, by default, to all fields
Type the term to find in the current document(s) notes
Type the replacing terms
Apply options if necessary
Click on Validate
New terms replaces previous one in records notes.
Specific aspects for stories capture
Stories and documents have the same documentary structure for notes. Stories are edited like documents. However there are two particulars.
Stories notes and documents notes
The edition of stories presents notes of selected stories and the notes for their contents.
The stories and their contents are selected by default. The input can be applied to the notes of the stories and the documents they contains.
Select a thumbnail for stories
By default, the stories are represented by a directory image. It is possible to change for a document's thumbnail when editing.
In the scroll bar of the stories documents...
Click on the pop-up menu of a document's thumbnail
Select the Set as cover document item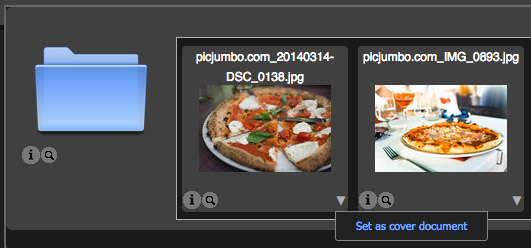 Note
Up to version 3.8.5, only the image type documents thumbnails can be assigned to stories.