Workspace
The workspace of Production is divided in 4 parts: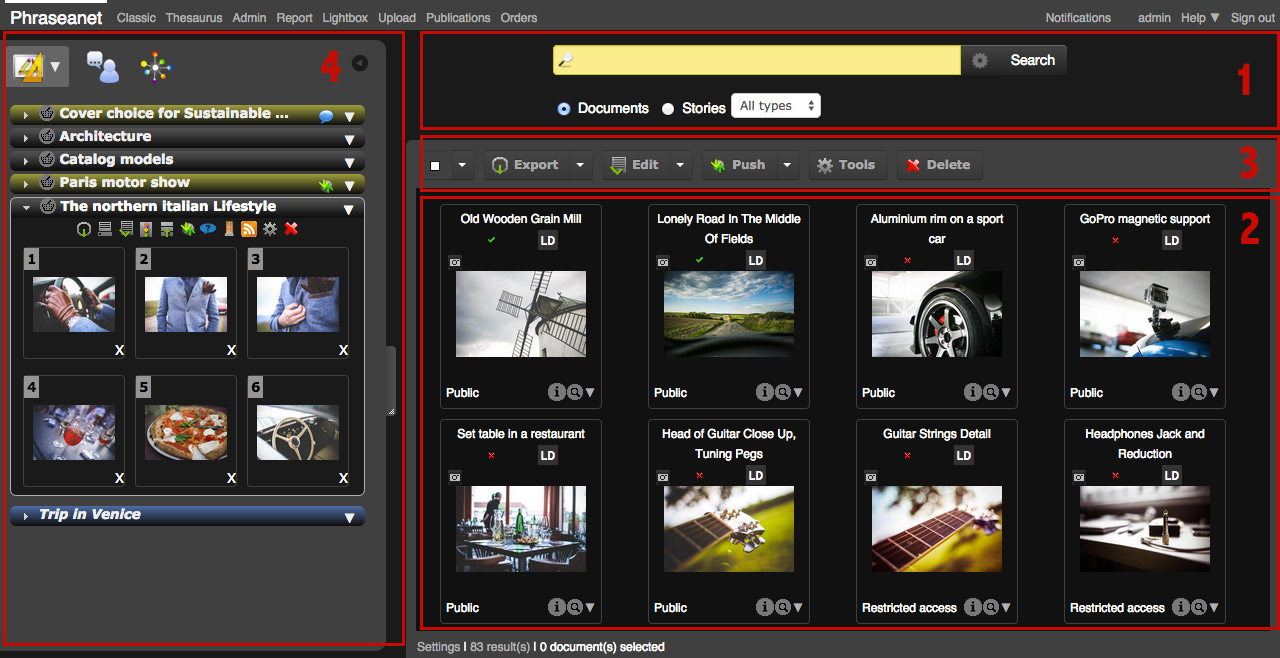 1. The search form allows to search media and stories
2. The display area displays the results of a search
3. The Actions palette allows to act on records. Refer to the dedicated page in Actions Palette.
4. The work zone regroups the baskets and stories tab, the suggestions tab and the Thesaurus tab. It is minimizable.
The lower banner allows access to the Display preferences, informs on the results number and displays a pagination of the results. This index allows to move through the results.
Note
Do not use the back and forward buttons of the web browser.
To access a specific page, modify the page number then validate by pressing the Enter key of the keyboard.

Search results presentation
The search results are presented as a grid or a list, depending on the users preferences. The thumbnails have a presentation title customizable by the Administrators.
The name of the document's collection is displayed in the bottom left corner: of the thumbnail. It can be replaces by a mini logo.

Mouse-over the thumbnail to display the document's description. This description is made of non blank documentary fields filled by the assets manager. The terms used as search criteria are highlighted.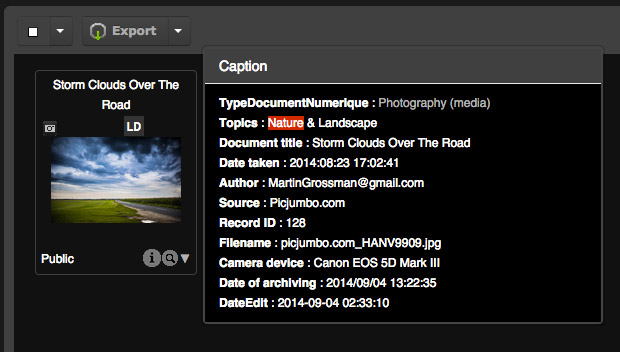 The "Magnifying Glass" allows to preview media. These previews are linked to the nature of the preview subview defined in the settings of the base that contains the displayed media.
By default, it is:
A picture for image type documents
A video extract for video type documents
An audio extract for audio type documents
A flash animation for some type of office documents
A generic icon if the system does not recognize the file type or can't generate any subview files.
The "i" icon gives technical infos on the original document : width and height in pixels, type, weight, printing size... In fact, displayed information depend on media type.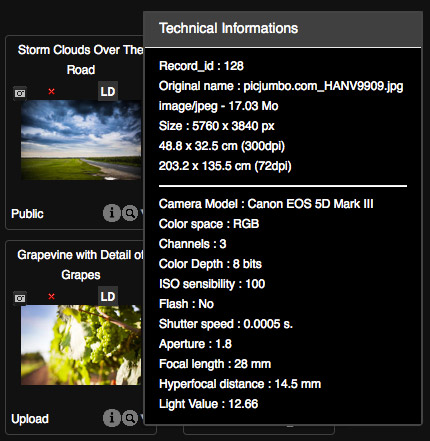 Double click on the thumbnail of a displayed media for the detailed view.